Pictures and Events
Subscribe to posts
Robinson Teacher Dinner- 
Robinson students love their teachers!!! The Robinson teachers and staff were able to enjoy a sitdown meal catered by Antonias deli with desserts, drinks and delicious treats provided by our amazing families tonight!!! A special shout out to our co-chairs Carlyn Johnson and Sara Carnevale as well as our awesome volunteer Allyson Crowell. We could not have made this night happened without you!!! Thank you to Carlyn for coming up with the idea (and all of the organizing) and to all of the students who sent in such beautiful drawings and messages to our teachers to show how much you appreciate them. We displayed these around the cafeteria and they will be delivered to the teachers in the form of a book in the future. The teachers all loved looking at them!
Robinson Book Fair -
A special MESA shout out to the amazing and wonderful 
Evie Cordell 
and 
Jana Fligor
 for running another successful Robinson book fair November 30 and December 1. Thank you to the 7 other parent volunteers who worked tirelessly over the 26 available shifts setting up, working the registers and cleaning up. Thank you as well to our confirmation students who assisted with set up and clean up. We could not make this fun event/fundraiser happen without you. We were able to put 
numerous books and educational materials directly into classrooms. Thank you to all of the parents who visited and purchased books and other items. MESA made $2300 in Scholastic Dollars which will be used directly to purchase books and other materials for the students.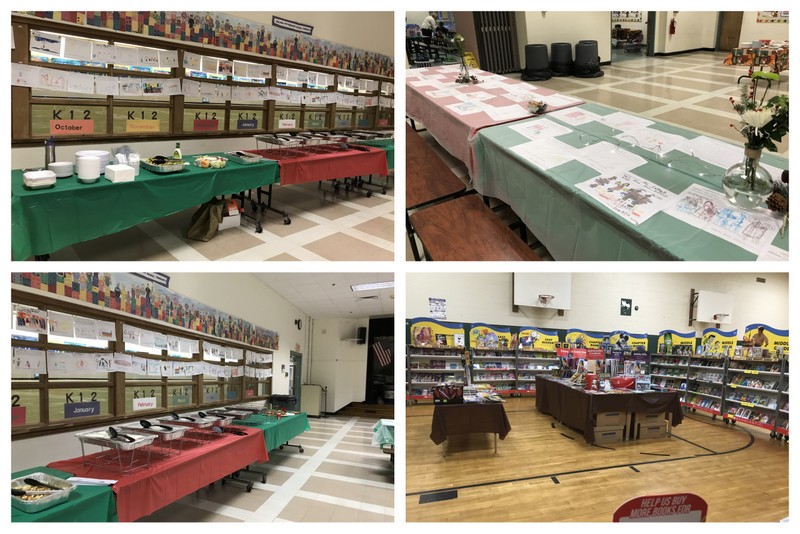 Our fifth grade students walked a mile on Tuesday November 21st with a partner while carrying a gallon jug of water.  MESA purchased each student a special bracelet as well as the gallons of water which were then donated locally.  The fifth grade students raised $12,300 towards their $15,000 goal of building a well in a village in South Sudan.  We are so proud of them.  
Thank you to the amazing Jordan/Jackson staff and group of parent volunteers who made this wonderful walk possible!  
Thank you for supporting-- and thank you to all who have contributed! 
If you would like to still donate to help them reach their $15,000 goal, please visit 
Thank you to everyone who came out to another successful Halloween Bingo two night event!! It was great to see everyone in costumes enjoying Bingo with their friends. A special shout out to Carlyn Johnson, Sarah Carnevale and our AMAZING Halloween Bingo Committee as well as the National Honor Society volunteers and the many parents who were able to lend a hand throughout the night from set up to clean up -- we could not have done it without our fabulous volunteers!!!  Thank you to Jessica Jackson for being our Emcee and Maureen Rottler for being our Bingo caller! Thank you to local parents for providing cider, water and cookies!! Also, thank you to all those who brought an overwhelming amount of non-perishable items for the food pantry!

Jordan/Jackson's 
Walk
 to 
School
 Day was a huge hit on Thursday October 5th!  It was great to see so many students and families 
walking
 to 
school
.  Thanks to all that participated!
On Friday, September 15th MESA welcomed our newest students at our annual kindergarten social. Music, dancing and giggles were enjoyed by all. Thanks to everyone who came out to meet new friends and have a great time with the Toe Jam Band. 
A huge thank you to Alycia Dancey and Jennifer Norige for organizing the Robinson Field Day and for Chelsey Baez and Lisa Balzarini for organizing Jordan/Jackson Field Day!  These ladies went above and beyond to ensure that our students had tons of fun!! 
A big thank you to the field day committee and all of the volunteers, especially those that showed up everyday to set up and break down and run errands when needed.  Field Days couldn't happen without a dedicated group, to you we are so thankful.  We are thankful for those who volunteered their time during record setting heat last week -- it certainly was not easy, but you ensured the students stayed hydrated, safe and had an absolute blast!
At the Jordan/Jackson we want to thank It's A Party Rentals in Norton and Good Thomas DJ for providing entertainment at the field day! 
We 
just completed another successful week of 
Bookworms
! Every student in Kindergarten and Grade 1 left school with a 
book
 he/she chose and a smile!  This is an early literacy program funded by MESA with books purchased through Scholastic.  We would like to thank the AMAZING committee of parent volunteers who make this program run smoothly!  
Jordan/Jackson's 
Walk
 to 
School
 Day was a huge hit!  It was great to see so many students and families 
walking
 to 
school
.  Thanks to all that participated!
We want to thank the 100 Kindergarten students and their parents who had tons of fun on Wednesday May 3rd attending MESA's Garden Wonders -- math and science night! These students learned how to measure bugs, weigh vegetables, create grassheads, make edible dirt, estimate butterflies, change the color of carnations and grow lima beans!! A special thank you to 
Keep Mansfield Beautiful
 and Garden Club of Mansfield for creating an amazing observation table where the students learned abo
ut milkweeds and butterflies as well as composting and worm gardens! We truly appreciate the time and effort they put into this fun night!! We also want to thank Stop and Shop, Shaws, Arts N Flowers and The Butterfly Place for their donations! Lastly a big MESA THANK YOU to our wonderful Garden Wonders co-chairs -- Lisa Beall and Ashley Smith and their amazing committee, as well as the numerous student and parent volunteers who helped set up, run the tables and clean up! We could not have put on this S.T.E.A.M. event without your hard work and dedication!!
MEAC
 (Mansfield Educational Arts Council) enrichment programs are sponsored annually by MESA. MESA spends over $15,000 every year to bring exciting STEAM assemblies to all of the students.  This past week our Kindergarten, 4th Grade and 5th Grade students had fun and learned a lot at these events!  We want to take a moment to thank the Discovery Museum, Museum of Science, Wingmasters and Plimouth Plantation for traveling to our schools to enhance our curriculum and reinforce our learning!  
Thank you to the staff at Robinson and Jordan/Jackson who organize these events! Lastly, we also want to thank all of our families who participate in our fundraisers throughout the year to make programs like this possible! 
On Tuesday March 21st, our 5th Grade students learned about Electromagnetism with the Museum of Science.  During this presentation featuring high-tech museum equipment, students explored voltage, current, resistance, and the interrelationship between magnetism and electricity. They got to see someone's hair stand on end, create a human extension cord by sending an electric current through several people, and shoot a metal ring to the ceiling of the school! 
On Thursday March 23rd, our 4th Grade students learned about Motion with the Museum of Science.  During this presentation, students learned students how forces create motion, what simple machines have in common, and why this helps us perform a large amount of work with minimal force. Students used mechanical advantage to turn a wheel and axle against a stronger opponent, hauled their classmates across the room using pulleys, and lifted a teacher using a giant lever.
On March 20th, 21st and 24th, our Kindergarten students learned about Weather with the Discovery Museum.  These young meteorologists learned about the important role weather plays in daily life as they practiced science and engineering by developing tools for forecasting and observing day to day changes and seasonal patterns over time.