Pictures and Events
Subscribe to posts
In-school field trips/enrichment programs are sponsored annually by MESA. 
MESA spends over $15,000 every year to bring exciting STEAM assemblies to all of the students at the Robinson and Jordan/Jackson. 
On Friday March 9th, our 4th Grade students learned about Motion with the Museum of Science.  During this presentation, students learned students how forces create motion, what simple machines have in common, and why this helps us perform a large amount of work with minimal force. Students used mechanical advantage to turn a wheel and axle against a stronger opponent, hauled their classmates across the room using pulleys, and lifted a teacher using a giant lever.
FYI -- 5th Graders were going to learn about Electromagnatism with the Museum of Science on March 13th, but this has now been postponed to Monday April 9th due to the weather.  
In-school field trips/enrichment programs are sponsored annually by MESA. 
MESA spends over $15,000 every year to bring exciting STEAM assemblies to all of the students at the Robinson and Jordan/Jackson. 
On February 27th and March 1st, the Pilgrims came to visit our 5th Grade classes.  The pilgrim portrayed a resident of 1624 Plimoth Colony.  The pilgrim spoke with a regional, English dialect of the 17th century and wore accurate reproduction clothing to bring the world of Pilgrims to life. Using reproduction artifacts to enhance the classroom's experience, the pilgrim shared their story, from hiring the Mayflower in England, through the journey and the first winter, to Thanksgiving in Plymouth. As a highlight of the program, several students were invited to try on Colonial clothing!

This past week, on February 26th, the 3rd and 4th Grade students attended Bookworms with their classes for the very first time ever at Jordan/Jackson.  Every student in 3rd and 4th Grade left the school with a 
book
 he/she chose.  This is an early literacy program funded by MESA with books purchased through Scholastic.  
We are able to run this program at both schools by using the almost 10,000 "Scholastic Dollars" we earn when our families make purchases at the book fairs. You may remember that all of our 5th graders received a copy of A Long Walk to Water purchased by MESA in the fall.
We would like to thank the AMAZING committee of parent volunteers who make this program run smoothly!  
Thank you to everyone who came out for MESA's rollerskating party at United Skates of America on Thursday February 22nd.  We enjoyed watching all of the kids skate and have fun with their friends!!  
The 3rd graders at Jordan/Jackson had their in-school field trip with New England Aquarium January 23rd-25th learning about tide pools.  Students discover how coastal animals have adapted to life in their environments by examining three different shoreline habitats and interacting with the animals that live there.  
In-school enrichment programs are sponsored annually by MESA.  MESA spends over $15,000 every year to bring exciting STEAM assemblies to all of the students.  Stay tuned, as all of the grades will continue to enjoy fun and educational assemblies throughout the next couple of months!
Robinson Teacher Dinner- 
Robinson students love their teachers!!! The Robinson teachers and staff were able to enjoy a sitdown meal catered by Antonias deli with desserts, drinks and delicious treats provided by our amazing families tonight!!! A special shout out to our co-chairs Carlyn Johnson and Sara Carnevale as well as our awesome volunteer Allyson Crowell. We could not have made this night happened without you!!! Thank you to Carlyn for coming up with the idea (and all of the organizing) and to all of the students who sent in such beautiful drawings and messages to our teachers to show how much you appreciate them. We displayed these around the cafeteria and they will be delivered to the teachers in the form of a book in the future. The teachers all loved looking at them!
Robinson Book Fair -
A special MESA shout out to the amazing and wonderful 
Evie Cordell 
and 
Jana Fligor
 for running another successful Robinson book fair November 30 and December 1. Thank you to the 7 other parent volunteers who worked tirelessly over the 26 available shifts setting up, working the registers and cleaning up. Thank you as well to our confirmation students who assisted with set up and clean up. We could not make this fun event/fundraiser happen without you. We were able to put 
numerous books and educational materials directly into classrooms. Thank you to all of the parents who visited and purchased books and other items. MESA made $2300 in Scholastic Dollars which will be used directly to purchase books and other materials for the students.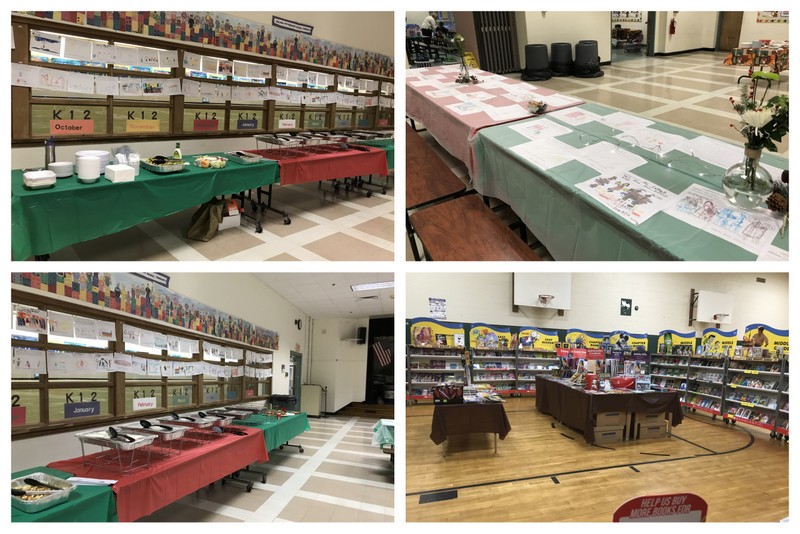 Our fifth grade students walked a mile on Tuesday November 21st with a partner while carrying a gallon jug of water.  MESA purchased each student a special bracelet as well as the gallons of water which were then donated locally.  The fifth grade students raised $12,300 towards their $15,000 goal of building a well in a village in South Sudan.  We are so proud of them.  
Thank you to the amazing Jordan/Jackson staff and group of parent volunteers who made this wonderful walk possible!  
Thank you for supporting-- and thank you to all who have contributed! 
If you would like to still donate to help them reach their $15,000 goal, please visit 
Thank you to everyone who came out to another successful Halloween Bingo two night event!! It was great to see everyone in costumes enjoying Bingo with their friends. A special shout out to Carlyn Johnson, Sarah Carnevale and our AMAZING Halloween Bingo Committee as well as the National Honor Society volunteers and the many parents who were able to lend a hand throughout the night from set up to clean up -- we could not have done it without our fabulous volunteers!!!  Thank you to Jessica Jackson for being our Emcee and Maureen Rottler for being our Bingo caller! Thank you to local parents for providing cider, water and cookies!! Also, thank you to all those who brought an overwhelming amount of non-perishable items for the food pantry!

Jordan/Jackson's 
Walk
 to 
School
 Day was a huge hit on Thursday October 5th!  It was great to see so many students and families 
walking
 to 
school
.  Thanks to all that participated!
On Friday, September 15th MESA welcomed our newest students at our annual kindergarten social. Music, dancing and giggles were enjoyed by all. Thanks to everyone who came out to meet new friends and have a great time with the Toe Jam Band.